Our mission
is to empower La Quinta's residents to have a voice in city governance through leadership, advocacy and support.

Our vision

is to assist those committed to working together for the betterment of La Quinta and facilitate open communications on all matters that concern its residents.
CURRENT ISSUES
Click on a topic below to read the news and
submit your comments:
In Case You Did Not Know?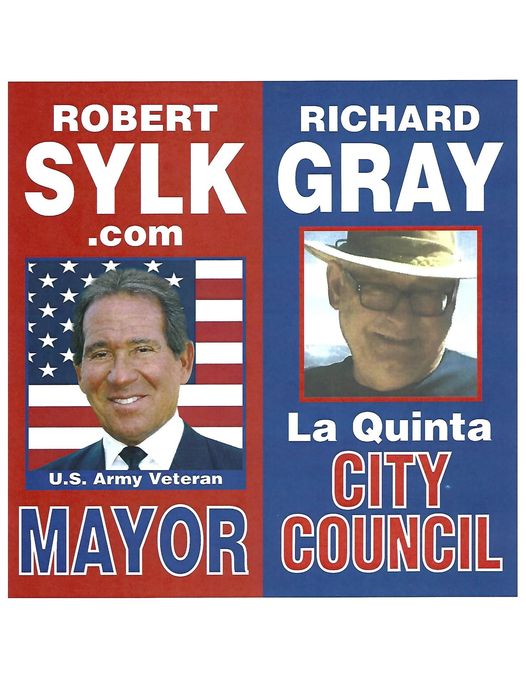 There was an election for Mayor and Council a few months ago in La Quinta with our Chairman Robert Sylk and 1st Vice Chairman Richard Gray who ran a great campaign. The first were the Ads in The Desert Sun Newspaper and the second were the yard signs posted all over town along with the following factual statements some heard on Radio and seen on TV interviews.
Dear Friends: I want to share with you why Richard and I ran for Mayor and Council. We promised to be fiscally prudent with your money and we will never raise taxes or fees. We will fight for every resident of La Quinta and stand up for what is right! Each election cycle marks a time for us to begin again with both promise and potential. Even the great explorers understood - that just because a destination is not in sight doesn't mean it does not exist.
Over the years our experience with certain city statements continually show us that we are not likely to believe something just because it's what we are asked to believe, and we find it difficult when someone has fudged the facts or stretched the truth. And the falsity that we detect is that they want us pretending that something is there when nothing is there like the SRR Circus and more. Our city's growth is beyond the scope of our present leaders. That is why we need a process that would enable voters to focus on the candidate's abilities and potential without being distracted and subconsciously biased by irrelevant factors such as tenure in office. Some incumbents camouflage their incompetence with that word. We have struggled against these forces that have betrayed us. It is time this year of 2021/2022 to have new forums, like ours, to find creative solutions to our problems and challenges of which we have so many.
La Quinta was a great city and should be concerned with the total welfare of all its citizens and embrace a culture of community service. Such a city is destined for greatness. But we cannot achieve greatness alone. It is also dependent on choosing the right leaders who will give of their time toward improving life for all. We need leaders that bring a new spirit of responsibility and that is what makes good cities into great cities. Do I think it's possible for a boom here in 5 years? In my opinion the answer is YES, but only with more advanced thinkers for a "New La Quinta", and since there has been no improvement in the last four (4) years then this next November, 2022 may be out last opportunity for a long, long time.
So in closing: We all have this responsibility, that each of us has, through action and results to show that our Vision is Clear, our Values are Powerful, and our Mission is Compelling. Together we can do the Extraordinary.
Thank you, Robert F. Sylk
Let Us Hear Your Voice
SUBMIT YOUR COMMENT
CLICK HERE

To submit your comment or question on new topic.
To respond to current topics, use the links at the lower left.
VIEW COMMENTS FROM OTHERS


Back to the Future - Backwards! - Adams Park Crosswalk Fiasco

North Adams residents had meetings in the Adams Park back in October. Mayor Linda Evans and councilperson Kathleen Fitzgerald attended one meeting and heard our neighborhood request for a crosswalk at the La Palma/Adams intersection. Lots of people cross Adams for the park at the corner or for a walk in the neighborhood..
Neighbors told the council members about trouble crossing Adams at La Palma and asked specifically for a crosswalk.
Well, Back to the Future - Backwards!
At several council meetings, we were told crosswalks are more dangerous since they give a false sense of security. Just as a side note, the city has not/NOT erased any crosswalks at other intersections in order to provide a better sense of security crossing!?!?
What has been the city's solution to our neighborhood? We now have Road-Diet (Road-Diet = Road-Kill) on Adams between Fred Waring and Miles - a very long block. Road-Diet is a misnomer for road confusion. Instead of 2 lanes North/South, there is now one lane each way, and a very wide bicycle/golf cart lane on either side. With no crosswalk, you can supposedly safely walk into the street and vehicles will stop to let you pass. Really?!?! With kids and/or pets? With some level of walking difficulty such as walkers?
This is our future La Quinta - go to the city web site and peruse the 111 Corridor plans. Evidently the city council wants La Quinta to be a bicycle/golf cart/pedestrian paradise. Add in the CV Link and we can see La Quinta becoming a sort-of Taos artsy/craftsy place.
La Quinta is a suburban city with wide lanes and plenty of room in all directions. What will happen when more and more major arteries get a Road-Diet?
Heavy one-lane traffic will eventually result in accidents with major injury or death.
Rancho Ocotillo, Quinterra and North La Quinta open neighborhoods do not have private golf courses. To fit in with the new Road-Diet regimen, however, we all should buy golf carts to go shopping and for other local trips.
Drive out to Adams between Fred Waring and Miles to see the future for our major transit streets. But be especially careful at the intersection of Ocotillo/Adams and La Palma/Adams. There are no crosswalks, but somehow it will be safer with painted traffic lanes and no false sense of security....
North La Quinta Concerned Citizens Committee